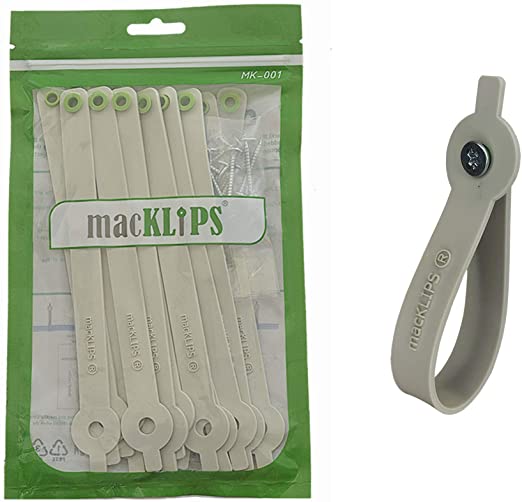 A detachable strap used to support small objects securely with the option to detach and re-attach if necessary.
Throughout the installation process, an installer will install, re-install and withdraw cables throughout the premises.
This is time consuming and not cost effective. We at macKLIPS® have designed a way to minimise the installation time dramatically, thus saving you money and time. Please see the details below.
20 SECONDS

SAFER WORKPLACE

SPEED UP INSTALLATIONS

IDEAL FOR MODIFICATIONS


has been specially designed to restrict the screw head from being completely inserted into the desired location but verifying a secure fixture to support small/medium sized items.
of the strap has been created to be installed by wrapping it around the item in question and securely connected into place by passing the exposed screw head through the aperture, to give a secure support for any item that is within the loop. The diameter of the aperture is smaller than the external circumference of the screw head. This is to give an extra level of security while supporting the cables.

can be broken while leaving the collared end securely fixed in place, which will allow for extra cables to be installed with ease.
After the new cable is installed, the dominant end of the strap can be re-connected by passing the aperture over the screw head.
The process can be re-applied as many times as required throughout the installation process.